Kurzweil and UK distributor Sound Technology Ltd are pleased to announce immediate shipping of the new Kurzweil Forte® premium stage piano, the most advanced keyboard ever to bear the Kurzweil logo. Featuring patented FlashPlay™ technology, new multi-Gigabyte sized piano and electric pianos and more, Forte® represents the pinnacle of Kurzweil engineering and artistic expertise.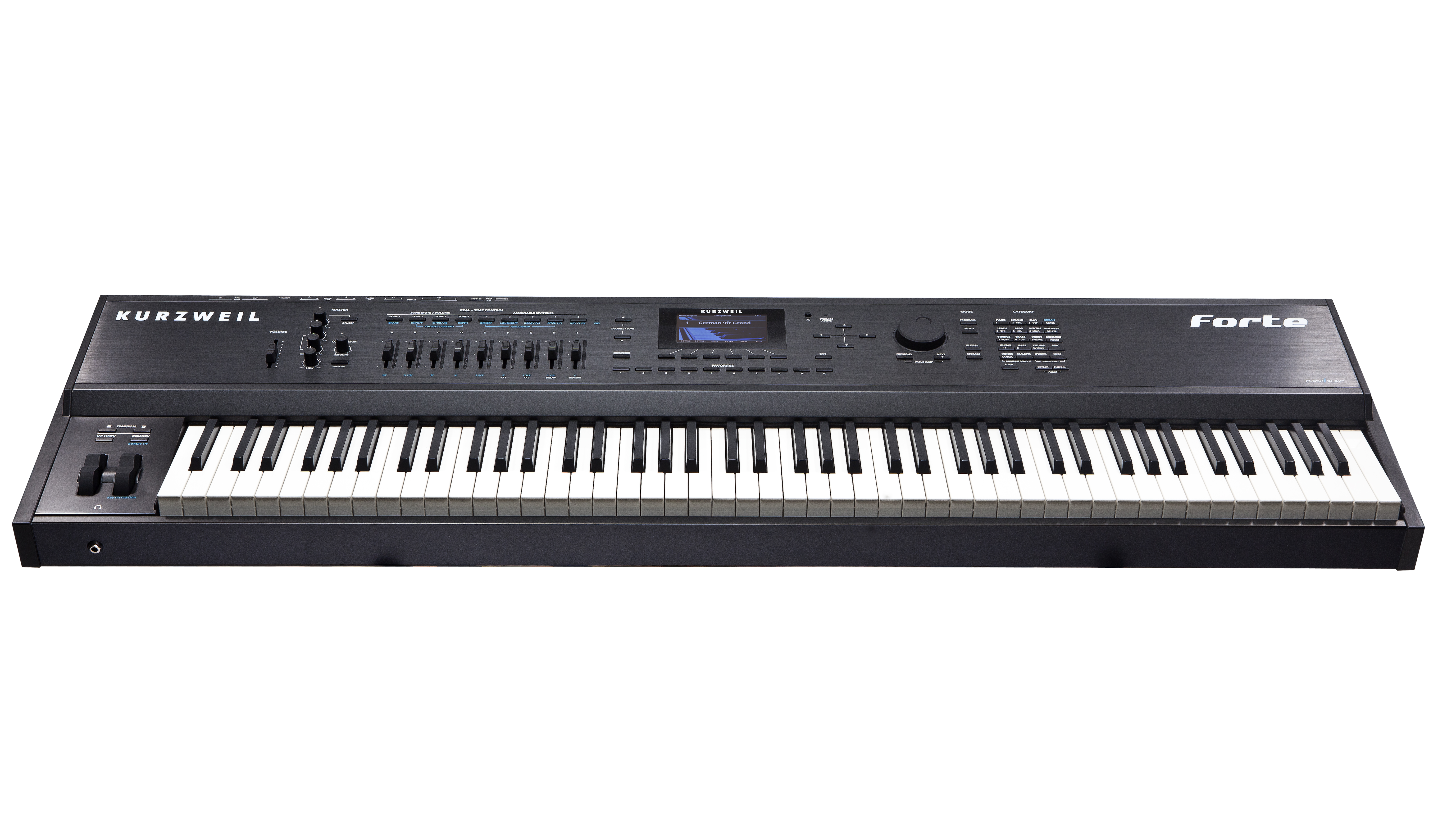 Photo above: Kurzweil Forte® - stunning sonic detail thanks to 16GB sample memory (click for hi-res version)
The Forte® features completely new sound engine based on Kurzweil-designed, patented FlashPlay™ technology. FlashPlay™ provides the Forte® with lightning fast access to its massive built-in 16GB sample memory, meaning it powers up fast and there is no loading time when switching between sounds.
With such a huge on-board memory, and thanks to all new masterfully sampled pianos, electric pianos, clav and harpsichord instruments, the Forte® delivers a level of sonic detail never before achieved on a hardware keyboard. The Forte®'s new piano sounds modelled on German and Japanese grand pianos, offer a full range of dynamics, from the most delicate pianissimo to the full-on thunder of the heaviest fortissimo. The piano sounds utilize long unlooped samples allowing for beautiful harmonic interplay between sustained notes. Additionally, mechanical key release and pedal samples provide added realism. Also included are rich new orchestral percussion instruments such as Celeste, Bells, Glockenspiel, Chimes, and Crotales (hit and bowed).
Forte® also features a large sound set from the acclaimed PC3 Series and Kore64 expansion for a complete set of gig-ready sounds built using Kurzweil's VAST Synthesis.
Kurzweil's acclaimed KB2 ToneReal™ Organ modelling, including 9 realistic drawbars, is also included. The B3 ToneReal™ Organs now use none of the Forte®'s 128 voices of polyphony.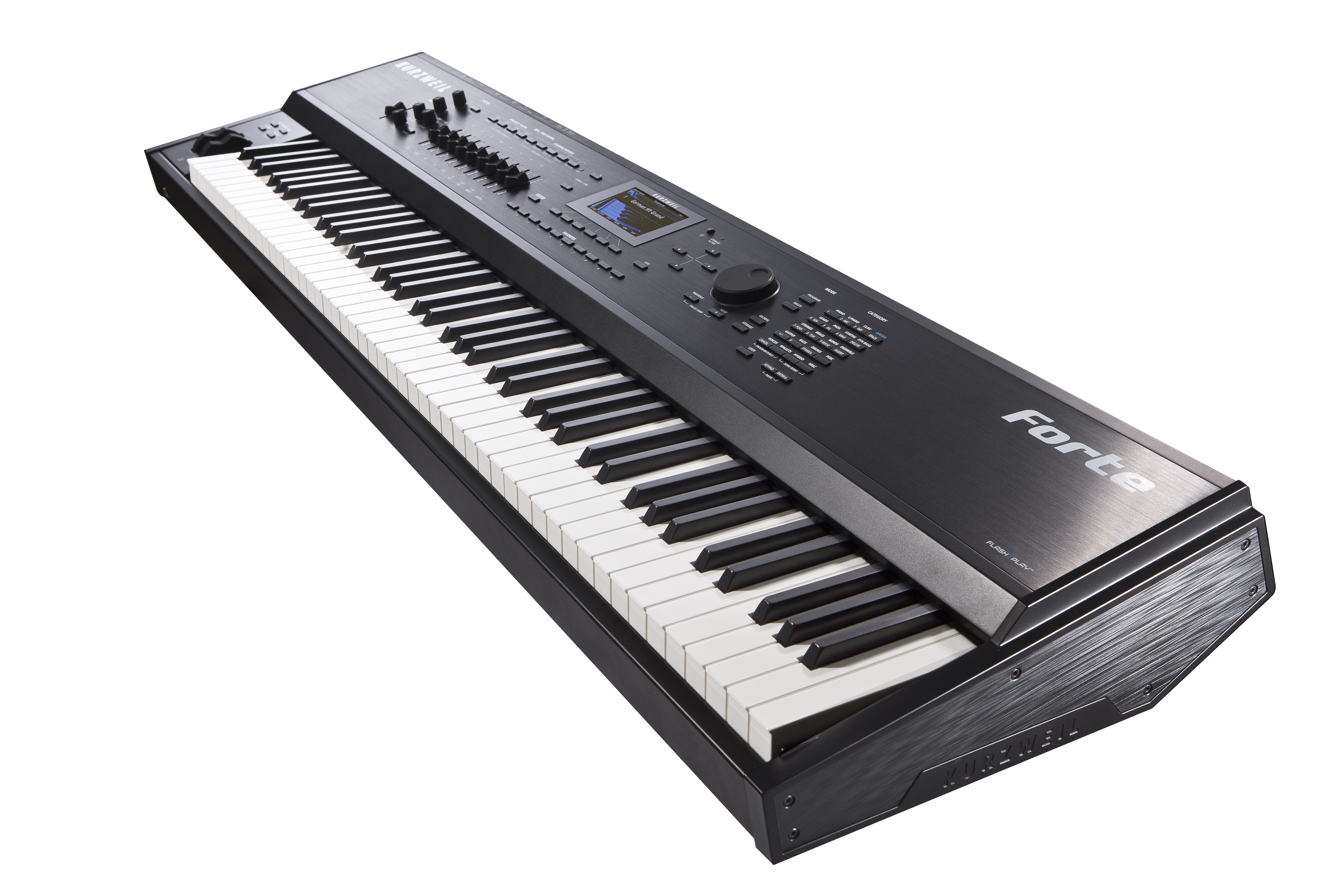 Photo above: Kurzweil Forte® - premium stage piano (click for hi-res version)
The Forte® sports a new sleek, streamlined design, coupled with gig-worthy ruggedness. Its user interface is both inviting and inspiring, with a beautiful 480x272 pixel colour display, 9 sliders (lit with brilliant LED ladders), a dedicated front panel 3-band EQ (with sweepable mid), and a compressor. Front panel buttons for Categories and Favuorites allow users to customize their experience with speed and ease.
Massive DSP resources allow each sound to have more effects available for use than ever before. Distortion, chorus, delay, reverb and other effects are easily controllable from the front panel sliders and switches.
Audio and Video Demos
SoundCloud: https://soundcloud.com/kurzweil-music-systems/sets/forte-series-pianos

Pricing and Availability
The Kurzweil Forte® is available now priced at £2799 RRP inc VAT.